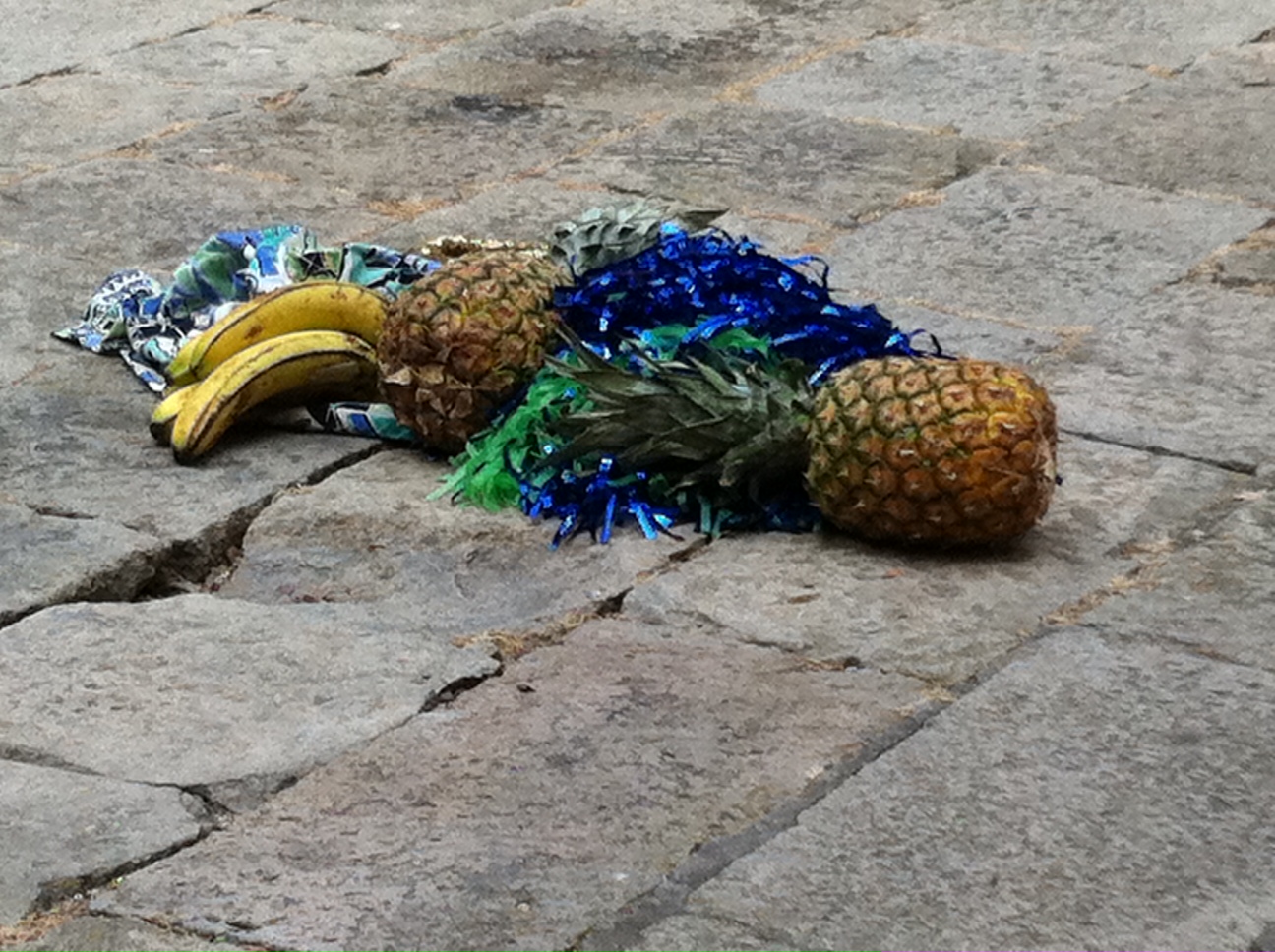 Il primo Bolero è andato, sfumato in laguna durante la Biennale Danza di Venezia. Con Cristina Rizzo abbiamo deciso di pubblicare la registrazione integrale di tutti i Bolero (la prossima tappa è a Santarcangelo, il 12 e 13 Luglio). Per me è inoltre un'occasione per pubblicare una serie di nuovi mix, concepiti per lo spettacolo, ma con una loro indipendenza se decontestualizzati.
Questo Bolero cresce a partire da una memoria esotica (Martin Denny — che posto qui sotto via Youtube, Soundcloud ha pensato bene di bannarlo per violazione dei diritti…) e chiude in una delle Leiyla Visitation di Halim El Dabh, un 'electronic drama' su nastro manipolato (in entrambi i casi siamo negli anni '50). Il centro è invece una selezione di Nu Cumbia contemporanea e Tarraxinha portoghese e angolana, un genere che è concepito per "loosen up your partner before hitting the sack" – come ci racconta Benjamin Lebrave.
Di seguito un testo di Cristina — un draft post-veneziano, la tracklist e tutte le note.
Special dedication to all the dancehall queens.
Forse si tratta di andare più lontano ancora in un punto di sollecitudine reciproca moltiplicata all'infinito in un infinito non quantificabile.
Quando si lascia cadere alle proprie spalle il problema dell'identità appare il soggetto e la sua autonomia, è possibile dunque tracciare uno spazio senza soluzione di continuità insieme ad un altro soggetto? di cui non conosco, niente.
Questo spazio che si traccia non ha più bisogno del tempo per mostrarsi, è uno spazio d'intimità. Una pietra posata insieme.
È un contatto nella dissomiglianza ciò che produce un Bolero, non ha a che vedere con l'accettazione dell'altro ma con la resa inaudita alla forma sconosciuta, senza presa.
Un sottile spostamento tra ciò che non si vede e ciò che si proietta davanti ad uno specchio in cui siamo sempre in due a guardare, quel luogo lontano che stiamo attraversando ripetutamente, come un semplice ritmo.
La forma, lo spazio, il tempo e ciò che 'io sono' …così in sequenza, insieme a te nella trasformazione. È come parlare con un uccello, non ti risponde mai ma sa che ci sei.
Palm Wine — Bolero #1 ~ Venezia
recorded live during "Bolero Variazioni" (by Cristina Rizzo), 22/06/2014, Biennale Danza – Venice
Martin Denny, Quiet Village
El Remolón, De Cero
Chancha Via Circuito, Tornasol – feat. Leandro Frìas
Poirier, El Norte del Sur
Crooked Bois, Crooked Zouk
Buraka Som Sistema, Zouk Flute
Photo Romance, Tarraxo Club
Edney Magalhães (Dj Nervoso), HOY    ONORATO & NERVOSO
Dj Znobia, mais uma vez na india
Dj Paparazzi, Mi Ma Bo
Dj Massacre, Inst, Tarrachinha
Two Sev, Hora Da Festa 2.0
?, XINÊS
Dj Joyce Gomes & Revolucion, CHORO DO CORNO
Dj LV, AVO TARRACHINHA….NEL T
Orquesta Colon, Pedro Simon (DOSMELO EDIT)
Halim El-Dabh, Leiyla Visitations Two