Venerdi 16 Ottobre arriva a Milano una nuova club night. Si chiama ELISEO.
fb event
ELISEO è una club night eclettica che abita i sotterranei di un cinema nel centro di Milano. ELISEO si manifesta una volta a settimana, il venerdì, ed è firmata da varie crew che a Milano hanno messo le radici da tempo. ELISEO è un virus progettato per il ballo e per il sudore.
~
ELISEO is an eclectic club night taking place in the basement of a movie theatre in downtown Milan. ELISEO reveals itself once a week, every Friday. Created by different crews settled in Milan, ELISEO is a virus designed to make people dance and sweat.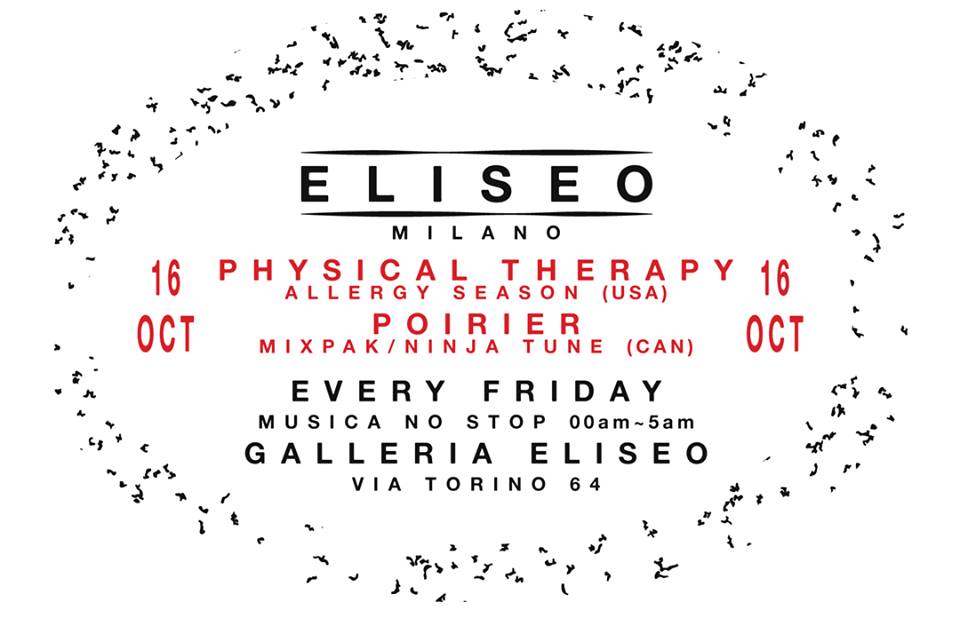 ELISEO è eterogeneo e arrogante, per questo spinge star locali e ospita guest internazionali. L'opening è affidato a due guest — PHYSICAL THERAPY e POIRIER — a cui si aggiungono i resident djs, che verranno di venerdi in venerdi comunicati, il giorno stesso.
Physical Therapy non è nuovo da queste parti, passò qualche tempo fa a PROGRESSO; è producer e dj, di base a Berlino ma radicato alle alley del New Jersey; arduo definirlo, è meccanico, ma anche disco, melancolico, ma elegante ed ironico. Poirier, invece, non è nuovo per i frequentatori di Palm Wine; atipico québécois, anch'egli producer e dj, ha contribuito a portare la dancehall e la soca nel futuro. Due sale e due direzioni, che marcano le traiettorie di ELISEO.
ELISEO
Via Torino, 64 • MILANO
EVERY FRIDAY — MUSICA NO STOP 00am–05am