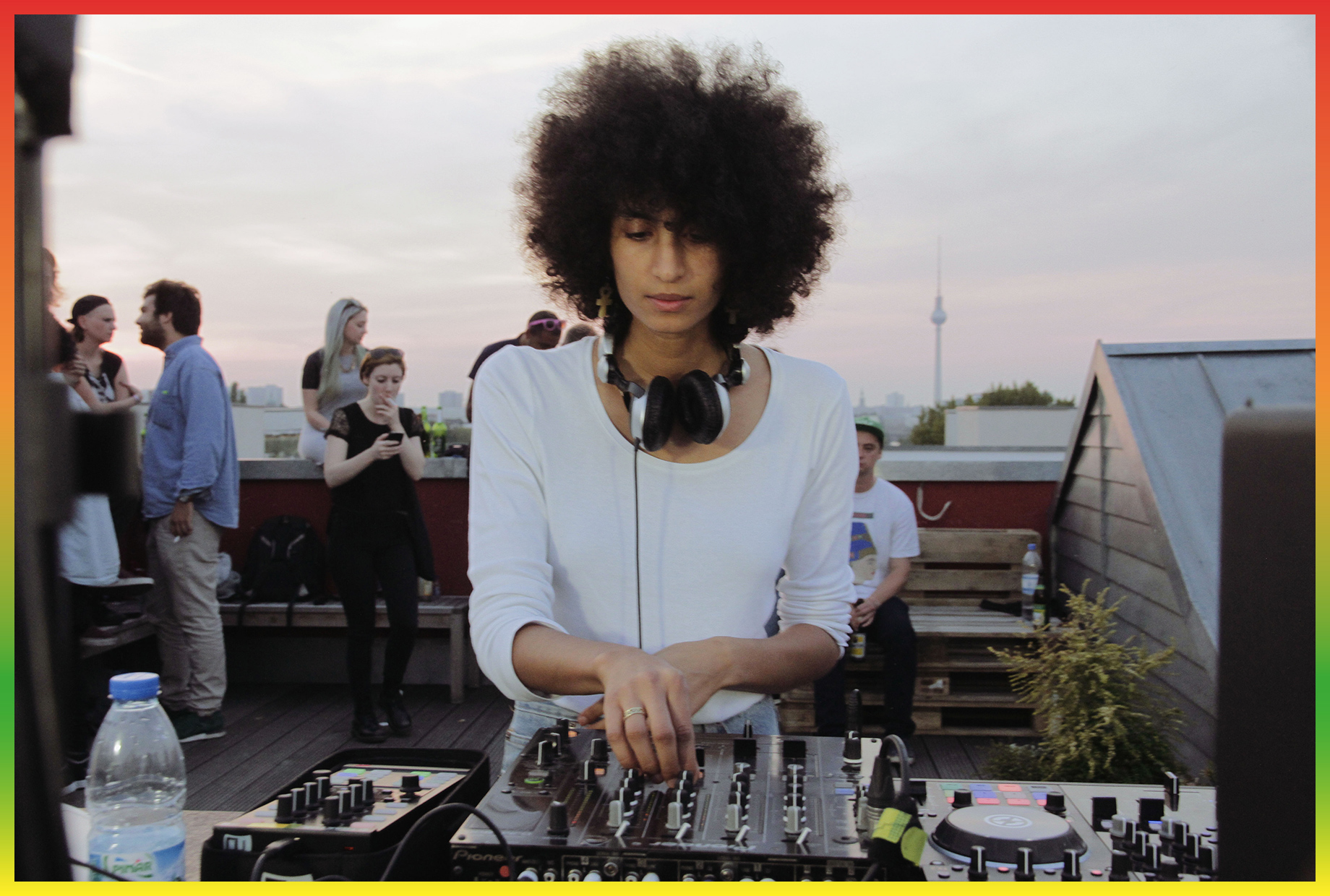 Sarah Farina ha origini eritree, passaporto italiano, ma vive da anni a Berlino, città che arricchisce dal 2012 attraverso la propria attività musicale in seno al collettivo Through My Speakers. Ama definire i propri set rainbow bass, a sottolinearne l'approccio eclettico e divertente nei territori di uk bass, hip hop, jungle e footwork. L'abbiamo già vista a Bunker Sonidero poco più di un anno fa, nel frattempo ha infiammato i dancefloor di diverse Boiler Room, del CTM Festival 2015 ed è appena tornata da Dubai.
A Sonido Classics presenzierà doppiamente: con un dj set nella Yard di Via Ventura (ore 22) e con l'MC Miss Red a BUKA c/o Striptease (ore 00.30). Marta Collini l'ha intervistata, pigiate play qui sotto e buona lettura.
MC: What is Rainbow Bass and how did you come up with this style and its name? Are you a synesthetic person?

SF: Rainbow Bass is a term that I came up with to describe the music I love. 
Everything I listen to and play has so many different colours and you realise it's all connected to each other – like the colours in a rainbow. 
The message of Rainbow Bass is: it's all one. All the grooves, bpm's & energy levels. That's a beautiful thing to me.
 I'm not a synesthetic person but when I'm on a music high it feels like it.
You've recently been in Dubai. How was it there and what have you been up to?
Dubai was a wonderful experience. It was my first time there and everyone I met was lovely and the vibes were so positive. I got invited by the amazing 264 cru to play at their Karak Beats party and the energy was massive. Something I will never forget! It felt like the music and the people became one. It's so nice to see that there are like minded people all over the world that share the same vision when it comes to music and life in general.
What is the best club gig that you had so far? 

So far… Dubai  ʅ(;◔ᴗ◔)ʃ  I feel like I'm still high from the energy the crowd gave me back that night.
Can you tell us more on the collaboration with Miss Red? 
First time I met Red, she came up to me while my DJ Set at CTM Festival last year and asked if she could grab the mic. 2 minutes later and the club was boiling. A few months later, when being homegirls already, she asked me if I wanted to support her shows and DJ for her every once in a while. Shit is lots of fun and her new Mixtape 'Murder' is super tight! Go check.
If you could decide the greatest ever line-up for an ideal festival with dead or alive, real or make-believe artists who would be in there?

Uff… that is not easy… I'll try ¯\_(ツ)_/¯ Rhythm & Sound, my Through My 
Speakers family, the Deep Medi fam, Missy Elliot, Addison Groove, Sick Girls, Thallus, Shape, Exit Records fam, Etch, Thundercat, Hyperdub fam, Skor 72, Gilles Peterson, 4Hero, Mac DeMarco, HTRK, Roy Ayers, Channel One, Aphex Twin, Chilly Gonzales, Buraka Som Sistema, My Bloody Valentine, 
J Dilla, Teklife fam, Kendrick Lamar, Jimi Hendrix, James Brown, Africa Hitech, Fatima, Lady Leshurr, Tame Impala, Notorius B.I.G., Alabama Shakes, Miles Davis, Nina Simone and soooo many more.
You are among the founders of Through my Speakers and you'll be soon in Milan to play at a festival actually dedicated to sound system culture… so what is sound system culture for you?

For me it's about uniting people, music education, having a good time and making the world a better place. Basically it's pushing a positive message through music cause music is a universal language and reaches a lot of people. The slogan from my collective sums it up pretty well "International music. International subculture. One Love."
Pick a gif/text emoji that better describes what people are going to hear on February the 13th
.